It's no secret that moving is a headache. But moving across the globe? Well, let's just say there's not enough aspirin in the world to cure that nasty migraine.
While there's certainly no way to make an international move completely stress-free, there are a few ways to make the process a bit smoother: thoughtful planning, the helping hands of a few good friends, a generous amount of wine, and ATL Air Shipping.
Making the move
Recently, I made the incredibly difficult decision to pack up my life in Seoul and head back to America after nine amazing years of living in Korea.

After settling on a date, I gave myself about three months to start packing and preparing for the big move. I wouldn't realize until a few weeks before my departure that this wasn't nearly enough time, but hindsight is always 20/20, amiright?
Fortunately, I did manage to get the bulk of my belongings shipped affordably by boat, but there was one item I could not send via this method.
A few years ago, I lucked out and was practically gifted an antique Korean chest. I grew attached to it and its gorgeous mother of pearl inlay designs, and, not wanting to part with it, searched desperately for a way to ship it back to the States. After a couple months of doing so without success, someone in the HBC/Itaewon Information Board Facebook group suggested I reach out to ATL Air Shipping, so I did just that.
Within a couple hours of shooting them a message via their Facebook page, a representative got in touch to (in perfect English) explain their services including relocation, logistics, fine arts shipping, pet transportation, and the transport of heavy items, as well as different options such as container and air shipping methods.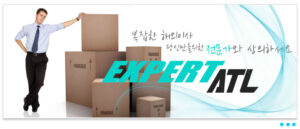 After providing them with a few additional details about the chest, such as the weight and dimensions, they gave me a quote which included all involved fees involved with an air shipment.
After confirming, I received a detailed contract and within no time, a pick-up date was set. I couldn't have been more impressed with how fast and easy the process was when I had been stressing about it for months! Where had ATL Air Shipping been this whole time!?
When the pick-up date came around, I only had a day left before my departure. Needless to say, I was running all over the place trying to tie up loose ends. I had been concerned that some unexpected circumstance would prevent the ATL Air Shipping guy from getting to my place at the designated time, but the company was great about confirming pick up leading up to the day. And, sure enough, someone was at my apartment at the exact agreed upon time to get my furniture.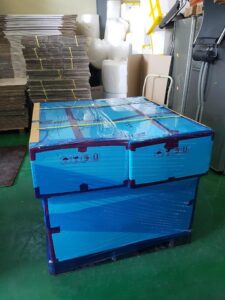 Although the company does have services where they will pack the specified items before bringing them to their facility, I only had the one piece. So, instead, they carefully packaged it after picking it up, and was sure to send me a photograph of it before it was shipped off.
A week later, back in America and just beginning to get settled, I answered the doorbell to find the FedEx guy alongside my beloved chest, which was wrapped up nicely in a padded cardboard box with not a scratch or dent in sight.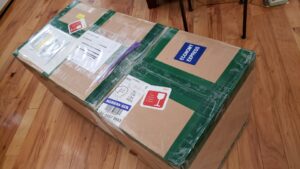 Although it did cost me a bit more than I was hoping to spend (about 550,000 won to ship via air), I am so happy I decided to bring my little piece of Korea back with me as a keepsake to cherish forever, and for choosing ATL Air Shipping to get it from Haebangchon all the way to Mississippi quickly and safely.
To learn more about ATL Air Shipping, check out their Facebook page, which has loads of valuable information about domestic and global shipping, moving, and everything in between.
More Information: ATL Air Shipping
Address:
178-7 Singil-dong, Yeongdeungpo Seoul, Korea
Phone:
+82-10-9382-2052
Email:
atl.airshipping@gmail.com
Website: Click here
Office Hours:
Monday-Friday 10am-6pm
Disclaimer: Although ATL Air Shipping provided the services mentioned above at a discounted rate in exchange for a review, the opinions are, of course, my own.