Before the days of discount supermarkets and department stores, markets were the primary locales for shopping, trading and gossiping in Korea. Unfortunately, due to rapid modernization and an increase in more convenient shopping facilities over the past few decades, the country's traditional markets have continuously lost patronage and are quickly diminishing both in size and number. While efforts are being made to preserve them, it is predicted that they will cease to exist in the next couple decades.
Although Seoul is abundant with
must-see destinations and experiences
, few of them provide an authentic glimpse into Korean culture as well as the city's traditional markets. And no other market is better to experience an insightful look into the daily lives of the Korean working class than Euljiro's streets.
Surrounded by Jongno,
Myeongdong
, and
Dongdaemun
, the area remains concealed in the shadows of the attractions of its more well-known neighbors. But opt to do a bit of exploring here and you might just be pleasantly surprised by the discoveries you make.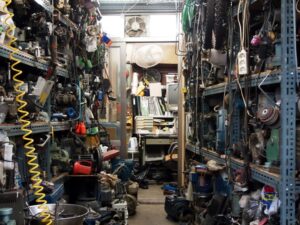 Nostalgia in a Cup

Begin your walk at Euljiro 3-ga Station, a destination frequented by shoppers eager to explore and load up on luxury items at Myeongdong's Lotte Duty Free. Bypass the bright lights and crowds of tourists and venture instead toward the oft-overlooked Euljiro 4-ga district.

But before you hit up the market streets, stop by Coffee Hanyakbang to get your caffeine fix. Tucked away into an impossibly narrow alley and hiding among a series of shabby buildings is perhaps Seoul's most magical coffee shop. Decorated like a dabang (traditional Korean coffee house) from the Japanese colonial period, the cafe instantly transports visitors back in time.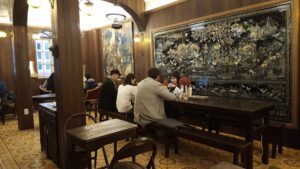 W
ooden floors creak with every step, the counter and wall panels are inlaid with mother-of-pearl, and antique furnishings are arranged beautifully with great attention paid to every detail. But it's not just the interior that makes Coffee Hanyakbang a must-visit. The coffee, hand roasted in-house, is out of this world, not to mention reasonably priced.
Don't miss their signature beverage: ultra-strong hand-drip filter coffee brewed by the barista with extreme meticulousness.
In case you're in the market for a fine tailored suit, stop by Knockers next door. The
tiny, Kingsman-esque family boutique offers amazing service and only the highest quality of materials (at equally high prices). In addition to suits, the shop also sells shoes and accessories and has a "gentlemen's quarters" on the third-floor where patrons can enjoy a glass of whiskey or a cigar. T
he owners speak English very well so you won't have any problem communicating exactly what you want.
Path to the Past

Continue east and along the way, pass tiny specialty shops selling industrial supplies and home interior goods that are situated alongside rows of ceramic squat toilets and piles of floor boards.

Let your senses lead you up and down cramped alleys that smell of gasoline where sparks escape electric saws. The unmistakable sounds of metal on metal echo throughout the area where welders and mechanics armed with power tools abound. Rain or shine, these workers carry on with their daily tasks, seemingly unmoved by anything, eager to put in a hard day's work.

Take a break at Chuncheon Makguksu, a dining establishment known for its cold noodles. Opened in 1962, the restaurant has stood the test of time, owing its success to its delicious food and loyal patronage. Try the makguksu (cold buckwheat noodles) and dalkmuchim (spicy chicken salad), perfect dishes for hot summer days, as their pungent spices fight the heat, or so believe the Koreans.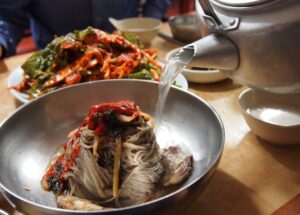 The old restaurant is generally frequented by mostly elderly diners – many of whom have frequented the restaurant since its opening – who add to the atmosphere with their boisterous banter. For them, Chuncheon Makguksu is a taste of their younger days, flavors that undoubtedly bring back memories of a different Korea, a Korea without iPhones or Starbucks. A Korea that the neighborhood of Euljiro still embodies today.


Baking Up a Good Time

When "My Name Is Kim Sam Soon," a Korean drama that follows a young, unhappy pâtissier as she approaches 30, took off in 2005, home baking started to become a trend throughout Korea. Since then, the hobby has attracted some serious enthusiasts who flock to the area's Bangsan Market, a locale often mentioned in the drama, for all of their baking needs.

Originally known as a wholesale market specializing in packaging, promotional materials, printing services and product manufacturing, the market has become a mecca for all things related to baking and brims with just about every kind of baking supply imaginable. Bake tins and trays of all sizes are stacked on top of one another, while cookie cutters and dainty packaging supplies hang outside of shops.

Continue onward along the beautifully landscaped Cheonggyechon. Compared to the western end of Seoul's iconic stream, which is usually accessorized with art and crowded with tourists, couples and office workers, this area is surprisingly peaceful throughout the year. Take a few moments to relax on the banks where water flows calmly around stones, reeds and stalks – a unique contrast to the hustle of the nearby markets.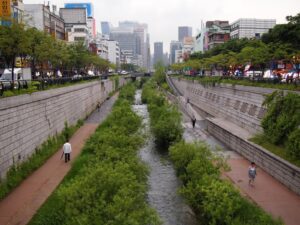 Make your way back to browsing quirky wares. Along the streets that snake from the Cheongyechon southward, clocks of every shape and size tick-tock on walls. Electronic wiring pokes through boxes in bundles. LED lights flash random greetings in bright neon. Men race inches away from passersby on bicycles that seem to be straight out of the 19th century. It's easy to get lost in this maze of shops that is sure to overwhelm your senses, but getting lost is half the fun of wandering Seoul's traditional markets.

As you cross over to the other side of the Cheonggyechon, prepare yourself for a culinary treat.

Traditional Tastes

One of the more widely known shopping centers of the area is Gwangjang Market, a bustling textile market that sells everything from silken hanbok to linen bed sheets. In the past few years, however, it has become more popular for its food than its clothing. Tourists and locals alike gather at the market's central ground level to sample sundae (blood sausage) and mayak kimbap, a snack of seaweed-wrapped rice that is so addicting that its name literally means "drug" kimbap.
Follow the lead of the locals, grab a seat at one of the
market restaurants
, and
order piping hot
binddatteok
(savory mung bean pancakes) and a
bottle of
makgeolli
(rice beer), the Korean go-to comfort food in rainy weather. Feeling adventurous? Top off your order with a plate of tender and delicious
meori gogi
(pork head meat). Don't be fooled by the cantankerous servers. Sure, they may come across as tough and grumpy, but they're quick to reciprocate a smile.

As you wrap up your meal, take in a final glimpse of the Seoul that most visitors never see. The real Seoul: tenacious and glazed in gasoline, flashy and loud and pungent, where common people work relentlessly day in and day out so that their children might grow up to live a more prosperous life.
Despite stiff competition from supermarkets and discount franchises, the markets of Euljiro are not going down without a fight. Perhaps they will disappear within the next few decades. Hopefully they will be around for a lot longer than that. Either way, they maintain a unique charm that makes them a necessary destination on any nostalgic tourist's itinerary.

Walking Map


Words and photos by Mimsie Ladner of Seoul Searching unless noted. Content may not be reproduced unless authorized.