Whether you're preparing for your first solo trip or your hundredth, smartphone apps can make travel more convenient, enjoyable and safe. Travel apps can help you translate languages in real time, convert currencies, organize your travel itinerary and navigate your destination. They also allow you to meet fellow travelers and locals, discover fun events and enable you to stay safe and accounted for. Read on for a list of my top travel apps every solo traveler should download.
Travel apps for meeting people
MeetUp
If you're dying to get in on a yoga class in Paris or join a photography tour in Buenos Aires, download Meetup. This platform allows you to discover free and paid events and gatherings in the city of your choice by filtering your interests (think wine, music, hiking, dancing and more). It's a great way to meet like-minded people or simply to try something new.
Download it: App Store or Google Play Store
Tourlina
Tourlina is a travel app for women solo travelers who would like to safely connect with other women. After downloading the app, you'll be prompted to input destination and dates of travel. From there, you can browse other travelers who have similar interests, who will also be in your destination city at the same time. Swipe to select those you're interested in meeting; if you match, you can start a conversation – and perhaps even a shared trip itinerary!
Download it: App Store or Google Play Store
Bumble
Who doesn't love a good travel romance? Bumble, an app that allows users to connect with each other for the purposes of dating (among other things), is a great way to meet potential love interests – or just interesting people – while traveling. There's also a BFF version of the app that allows you to meet others for strictly platonic reasons.
Pro Tip: Purchase the Premium version of the app before you leave to set your location to your travel destination. You can then swipe to meet and chat with others ahead of your trip so you'll already have people to meet when you arrive. Just remember to be smart and safe – more on that below.
Download it: App Store or Google Play Store
Travello
Boasting a similar interface as Facebook, Travello is a social media platform designed specifically for travelers. With this travel app, you can connect with others also visiting your destination for travel recommendations. Users can also share photos and tips, read or leave reviews and pay for tours and experiences. There are even sub-groups (like one for solo travelers) so you can connect with people interested in the same things you are.
Download it: App Store or Google Play Store
Facebook
Specifically, Facebook groups. Before visiting a new place, I'll often join the expat group associated with the city or country I'm traveling to. (For example, "Expats in Madrid" or "Expats in Costa Rica".) Sometimes, I look specifically for women expat groups. (Girls Love Travel is another gem!)
These groups are great resources for not only connecting with locals and expats living there, but the folks in these groups are usually very helpful if you have a question or are looking for a particular kind of restaurant, experience or tour. I've also used them for inquiring about and discovering short- and long-term rentals.
Download it: App Store or Google Play Store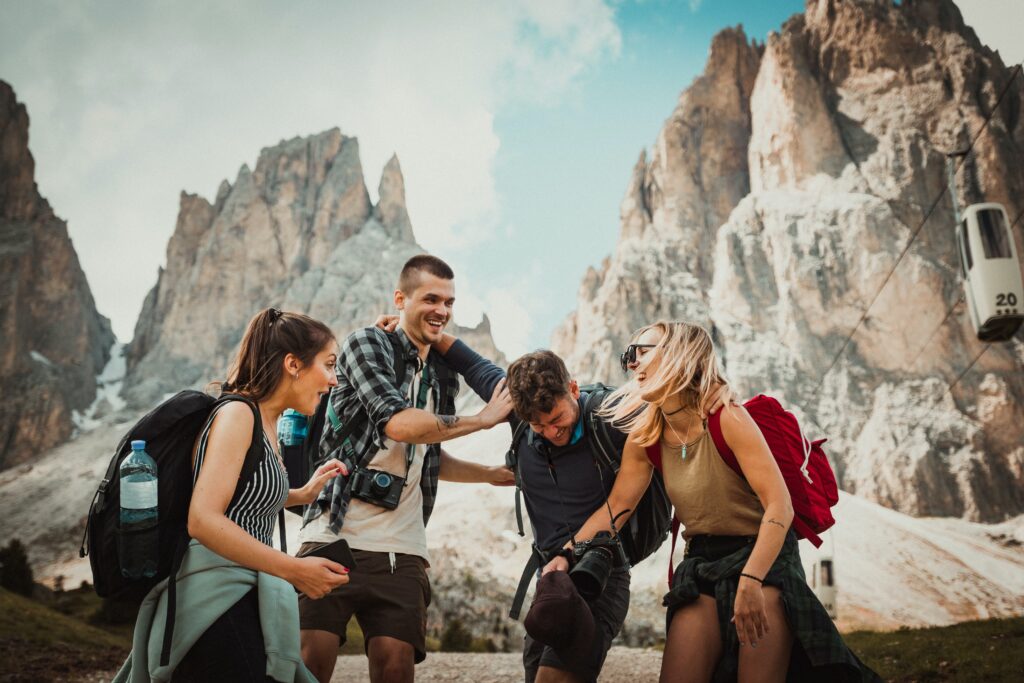 Travel apps for staying safe
Noonlight
Safety should always be a priority when traveling, but especially so if you're going at it alone. One great safety option is Noonlight, a simple travel app that features a panic button, which you press and hold if you're feeling in danger. Once you're in a safe spot, release the button and enter your pin. If you release but don't enter your pin, local police will be notified and sent your location.
You can also connect the app to your Tinder account (be sure to enter backup details before your date) and Uber accounts (so police can more easily locate you if something goes wrong).
Download it: App Store or Google Play Store
MayDay
Another app that can help keep you safe in a threatening situation is MayDay. Similar to Noonlight, the app features a red panic button, which, when tapped three tips, alerts friends and family that you're in trouble and provides them with your location. Set up the app before your trip so it's ready should you find yourself in an emergency.
Download it: App Store or Google Play Store
Travel Smart
Need to quickly locate the nearest embassy? Travel Smart can help. Packed with safety features like travel notifications and advisories, as well as high-risk spots to avoid based on your location, this app can help you to feel more secure when traveling alone. Other features include weather, currency conversion, travel document organization and local etiquette tips.
Download it: App Store or Google Play Store
Smart Traveler
My fellow American solo travelers shouldn't leave home without downloading and registering for an account with Smart Traveler, an app from the U.S. Department of State. This app lists current travel advisories as well as visa and vaccine information you'll need before hitting the road. By registering your trip through the app, it will provide your information to local embassies and consulates in your destination country. Should there be a disaster or crisis, the local embassy can contact you.
Download it: App Store or Google Play Store
Travel apps for logistics & navigation
TripLingo & DuoLingo
You might not always meet a local travel buddy to turn to for advice when it comes to the local language. TripLingo can help you communicate and adapt to the local culture. Pick from over 100 countries and download the travel app's language pack, which includes a voice and image translator, a list of essential phrases and vocabulary and a guide to cultural norms such as tipping, safety and, of course, flirting.
If you want to brush up on your language skills before heading to your destination, I also suggest downloading DuoLingo. It's a free and fun app that gamifies language learning so you can pick up key phrases, vocabulary and grammar quickly.
Download TripLingo: App Store or Google Play Store
Download DuoLingo: App Store or Google Play Store
Google Voice
If you're going to be abroad and using a local SIM card for internet data, you may want to consider downloading a free Google Voice telephone number. You can share this number with your friends and family back home so they can call and text you without having to pay crazy long-distance fees. Note that you do need a secure internet connection on your phone to receive/make calls and receive/send texts.
Download it: App Store or Google Play Store
SitOrSquat
There's a pretty good chance you'll have to use a public toilet (or squatty potty) during your trip. Thankfully, Charmin developed SitOrSquat, a travel app that allows you to locate the nearest public restroom, as well as details on how clean it is. You can also rate a bathroom and share your experience to help others.
Download it: App Store
A rideshare app
It's always a fun experience to use local public transportation but having a rideshare app can really come in handy, especially if it's late at night and you're in a new place. I suggest doing some research before your trip to see which app is the most popular (and safe) in your destination.
Lyft and Uber are both popular in many U.S. cities. Uber also has a presence in many European cities and beyond. Grab typically covers the Asian market; Cabify is a solid choice in Spain and Latin America. Taxify is a go-to in France, Australia and some countries in Africa. Careem is the popular choice in Turkey and the Middle East.
Waze
Whether you're strolling the streets of Seoul or traversing the Canadian countryside, Waze can help you map your route. The app's hazard and police alerts are especially useful for solo travelers hoping to avoid events like protests or blocked roads. The app also integrates with Spotify so you can listen to your favorite jams while using the map or navigation mode.
Download it: App Store or Google Play Store
Tripcoin
If you're a solo traveler on a budget, you may want to keep a close eye on your expenses. Enter Tripcoin, a travel app that allows you to input all your expenses in various currencies. See reports, export to Excel or view color-coded graphs that help you see where you've been spending.
Download it: App Store
For entertainment
Audible
Long train, car and plane rides are made much more bearable with Audible, an app that allows you to listen to books, radio programs and even meditations and bedtime stories, which can be particularly useful if you're fighting jet lag.
Try a free trial of Audible Plus here
Kindle
Traveling on your own means you'll likely have plenty of time for reading. The Kindle app gives you access to all of your purchased books and syncs them to the position you left off on other devices.
Download it: App Store or Google Play Store; Explore membership plans here
Amazon Music
No adventure is complete without a solid playlist to serve as your soundtrack. Amazon Prime Music provides unlimited, ad-free streaming of over a million songs, meaning you'll have plenty of options to set the mood for your solo travels. Try a free 30-day free trial.
Express VPN
If you plan on streaming via apps like Netflix or Hulu, note that these apps may be either different or blocked depending on your travel destination. To get around this, download a VPN (I like Express VPN) to your phone before you go. (It's worth paying $10 or so for a highly-rated one so you don't run into technical issues.)
Download it: App Store or Google Play Store
Last but not least, don't forget to look into how you can secure internet connection during your trip so you can actually take advantage of all these apps. Sometimes, it's as easy as adding an international package to your phone plan, or ordering a pre-paid SIM card from the country of your destination.
More often than not, it's usually most cost-efficient to pick up a SIM card at the destination airport. Though do note these shops may be closed if you're arriving very early or very late.