As most of you know, Korea has for a long time held a very special place in my heart and now that I am once again living in America, I am always looking for ways to keep it close to my heart – literally and figuratively.
Which is why I was so ecstatic to discover
KORELIMITED
, a streetwear brand based in Southern California that celebrates Korean culture and lifestyle through unique, trend-forward designs. Think nostalgia-inducing
sweatshirts boasting retro soju labels
, t-shirts featuring a vintage Hodori – the official mascot of the 1988 Summer Olympic Games in Seoul – and hats, hoodies and bomber jackets embroidered with social messages in
hanguel
, the Korean script.
KORELIMITED (a name formed from the words Keepin Our Roots Eternal) truly pays homage to the beautiful – and sometimes tragic – heritage of Korea and I'm excited to say I am now a proud owner of a number of their designs.
Check out a few of my favorites.
Masks have been used in Korea for years to prevent spreading sickness. It's commonplace to see Koreans sporting them while in public, even when there isn't a pandemic. Wearing a mask is not a political statement in Korea; rather, it's an act of consideration of one's neighbor.
KORELIMITED does have a few
super comfy masks
available for purchase (profits go to frontline workers in need), but taking things a step further, they also sell a
mask hoodie
($87), an incredibly unique design that marries the comfort of a hoodie with the protection of a built-in mask. The mask can be detached on one side when not in use or held in place across the face with small Velcro strips when in public.
In addition to being super convenient, it's also stylish with a simple design, featuring embroidered lettering that reads 같이 살자 (or "Let's Live Together/ Let's Survive Together"), a reminder that we are not alone in this world and that we will always have each other – even during the most challenging of times.
The material is very high quality, and quite thick. Meaning it's certainly not suitable for the Southern summer heat, but I have a feeling I am going to be living in this hoodie come winter. Note: These are sold out just as quickly as they're made available, so snatch one up if you can get it in your size!
During most of my time in Seoul, I lived in the neighborhood of Haebangchon, a hillside community situated at the base of Namsan Mountain. Because of this, I had the privilege of seeing the beautiful Namsan Tower light up every evening, right from my living room window.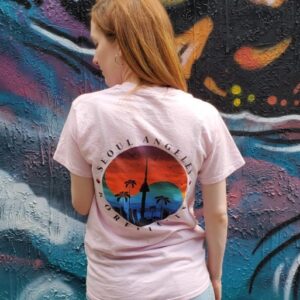 The
Seoul Angeles t-shirt
($36.95) reminds me of those moments, as it features Namsan Tower, which is arguably the most iconic symbol of Seoul. It also features the
taeguk
, the red and blue circle in the middle of the Korean flag, that symbolizes the dual forces of nature.
Another KORELIMITED item that pays homage to the Korean flag – and my favorite of those included in my order – is the Taeguk Barcode Crewneck ($55).
Although they may look like "barcodes" to those not in the know, the four sets of lines featured in this design are actually representative of the four trigrams on the Korean flag. Called
kwe
in Korean, these trigrams also represent the concept of opposites and balance. They symbolize heaven, earth, water and fire. Like I said, this is a more ambiguous design, which I like because I can wear it with anything, but still feel close to Korea while sporting it.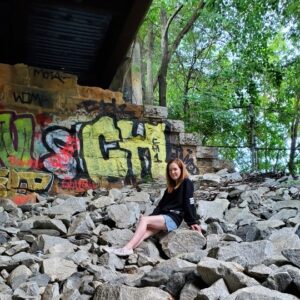 This sweatshirt is made of 50% cotton and 50% polyester, and the inside lining is so soft. It's also quite lightweight, making it perfect for keeping warm in cooler weather. It also comes in three different colors: black, gold and azalea.
When I checked my bank balance after I got my first paycheck in Korea, I couldn't be more excited to see ALL. THOSE. ZEROES. The number may have been in won (and not dollars), but I was still a millionaire. Ha!
This fun Won Over Dollars Dad Hat ($35), which has a simple embroidered design of a few won and dollar symbols, is yet another more obscure design and you have to
be in the know
to really get it. But I love it, as it's stylish and functional. It's got an adjustable strap, meaning one size fits most.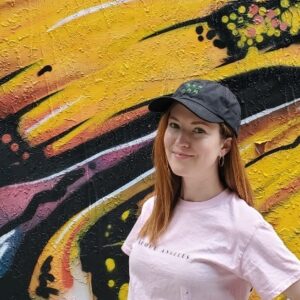 I'll definitely be supporting this brand going forward. There are already a few new designs I've got my eye on. (Can we talk about this
King Sejong hoodie
!?)