I understand the controversy around traveling internationally during a global pandemic, so when I had the opportunity to visit Mexico City in October, I spent a good few days weighing the pros and cons of booking a trip. Since the beginning of the outbreak, I've taken advice from medical professionals seriously. But I've also seen the ill effects the pandemic has had on the tourism industry and all those who work in it.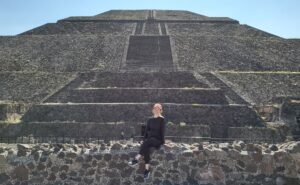 Enjoying a crowd-free day at Teotihuacan pyramids
As someone who has already had COVID-19, and tested positive for the antibodies, I felt relatively comfortable knowing that I would likely not catch the virus – or more importantly, spread it. Sure, there was still a risk (after all, there's no definitive evidence on the possibility or prevalence of reinfection), but so was being out and about in my home of Mississippi, where hardly anyone wears masks, even in enclosed spaces such as grocery stores and banks.
So, in the end, I opted to go to Mexico and planned my trip so that I'd be outdoors – a "safer" environment than indoors – as much as possible to be as responsible as I possibly could. I also did as much research as I could to gauge the current situation in Mexico City, and found some helpful travel tips from Drew Binsky and Eternal Expat's Laura Bronner, who both showcased the many precautions the city is taking in response to the virus.
And boy, am I glad I ended up deciding to go. Mexico City felt soooo much safer than the Gulf Coast here in the US. It's very much alive right now, all things considered, and the energy of the city breathed new life into me. To be honest, it was one of the best trips I've gone on in recent years. So, if you too are thinking about planning a trip to the Mexican capital, read on to find out what you can expect when traveling to Mexico City during COVID-19.
On the plane
For reference, I flew out of the Gulfport/Biloxi International Airport, a very small but efficient airport in southern Mississippi. Check in was no different than any other flight I had taken in the past. My luggage was weighed and checked, and I received my boarding pass from the United kiosk. Security checks were a bit slower than usual, as they were promoting social distancing between passengers at TSA.
Most of the gates were a bit busier than I expected, and not all passengers were wearing masks while they were waiting. I opted to find an empty gate to wait for my flight. My flight to Houston, my connecting flight, was fairly empty; just about everyone had an open seat next to them. This wouldn't be the case for the remainder of the flights there and back, but the flights themselves felt safe, nevertheless.
Passengers seemed to comply with the mask requirements, and everyone was given antibacterial wipes to give their seating area an extra clean. Drinks and snacks were served, but I passed, considering the flights were short and I preferred to keep my mask on for the duration of the flights.
The Houston airport was as quiet and as slow as I'd ever seen it. Not all the airport's stores and restaurants were open, but there were a few places where I could grab a quick bite and have enough space to eat while keeping myself socially distant.
At no point during my flights in the US was I required to fill out any forms or have my temperature taken.
Zócalo, Mexico City
Arriving in Mexico City
I was truly surprised by how efficient the arrival process was in Mexico City. Just as soon as I stepped off the plane and into the immigration area, I had my temperature taken. When I was cleared to move forward, I was asked to complete a small form containing information about my stay, including the address where I'd be and how long I'd be there. The immigration officer was extremely kind and welcoming.
Unlike many other countries, Mexico does not require proof of a negative COVID-19 test, nor do they require you to quarantine. Mexico is also one of the few countries allowing American tourists to enter.
Palacio de Bellas Artes
At the luggage carousel, attendants were assisting passengers with their baggage. Some were even helping carrying luggage through the customs area. This process was quick and efficient.
I was directed to door #7 to hail an Uber, which arrived quickly. Uber is requiring all drivers and passengers to wear masks, and throughout my stay, I'd notice that not only were all drivers compliant, but many drivers had rigged up a sort of plastic shield between the front and back seats for extra protection. All cars displayed certificates of sanitization and had hand sanitizer available for use.
It was already about 11pm when I made it to the airport, so since there was no traffic, I was able to quickly get to my Aibnb in Roma Norte. Like Uber, Airbnb is requiring hosts to take extra steps to ensure sanitary environments for guests, and my apartment was no exception. They even had a closet full of items I may need so I wouldn't have to be face-to-face with them.
Restrictions, limited hours and closures
I felt really fortunate to have been able to see many of Mexico City's most popular attractions, including Chapultepec Park, the Frida Museum, the Zocalo and surrounding buildings in Centro Historic.
I loved walking around the various neighborhoods such as Condesa, Coyoacán and Roma, among others. In fact, wandering these areas was a highlight of my trip. A great thing about Mexico City is that many of the restaurants, cafes and bars have outdoor seating (hello, perfect weather), while many markets and shops, too, are either open or have exceptionally good ventilation.
Sidewalk cafes, Roma Norte
That said, there were a few places I was not able to go, as they're still closed because of the virus. The Museo Nacional de Antropología, Chapultepec Castle and the Templo Mayor Museum were among those I had hoped to visit but couldn't. Others, while open, had limited hours (the Frida Museum, for example, caps the number of daily visitors and requires guests purchase tickets for a designated time to avoid crowds).
Still others have certain restrictions. While I was thrilled to experience the magic of the ancient Teotihuacan pyramids, I was not permitted to climb them, because of the virus.
The hours of operation and restrictions of Mexico City's attractions are changing on a daily basis, so be sure to check the hours on the attractions' websites before visiting.
Fewer crowds
While some may like the hustle and bustle when visiting a city, I'm perfectly content with no crowds. In this regard, visiting Mexico City was a dream because there simply aren't many tourists traveling right now.
This was especially nice on my tours to Teotihuacan (which I booked through sustainability-focused Teotihuacan En Bici) as well as an incredible visit to a ranch/horseback riding trip I booked through Airbnb experiences. In fact, I was the only one on both of these tours, meaning I didn't have to fret about being in an enclosed van or car with a group.
Added precautions
It was very reassuring to see that everyone was wearing masks, whether they were exercising in the park or shopping for groceries. Most places require you to wear a mask to enter, so be prepared to wear it everywhere, even if you aren't in the close proximity of others.
Almost all businesses I entered (even outdoor spaces like parks) also required I walk on a square mat before entering, which is used to sanitize shoes. Additionally, you must use hand sanitizer upon entry into most places. A large majority of businesses (even convenience stores) also require you have your temperature checked.
It wasn't uncommon to see waiters and bartenders in full PPE – from face shields and plastic gloves to protective eyewear and double masks. They aren't taking COVID-19 lightly!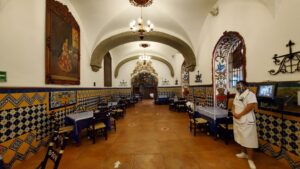 Inside Cafe de Tacuba
Again, I understand that many people aren't comfortable with the idea of traveling right now. And I get that – everyone has their own comfort level. But when researched properly and approached responsibly, traveling right now (especially to Mexico City) isn't just a possibility, it also has many benefits.
Bon voyage, and SAFE travels!