Psy may have put Gangnam on the map with his bow-ties and "gentleman"ly behavior, but the fact of the matter is… Gangnam is for girls.
Recently, I took a bit of a staycation in Seoul's upscale district in search of the area's best shopping, dining and entertainment facilities and made a point to take plenty of notes for all you gals looking to make the most of your visit to Gangnam's most famous neighborhoods: Apgujeong, Cheongdam-dong and Sinsa-dong.
For the ultimate Gangnam experience, it's best to devote two days of your Seoul vacation to the district. To save you time, I've compiled a two-part, two-day itinerary that will focus on must-see attractions, restaurants and even accommodations.
Our girls day out begins in Sinsa-dong, a quaint neighborhood that has become increasingly popular over the past couple years with the city's trendsetters, fashionistas and foodies. Perhaps the best known street in the area, and the perfect place to begin your Gangnam adventure is Garosugil.
Stretching less than a kilometer in distance, tourists and locals alike flock to the beautiful European-esque promenade named for the ginkgo trees that adorn it. The only thing more beautiful than the Garosugil itself are the people that hang out there, most of whom are dressed to the nines in the latest fashions, ready to strike a pose for the amateur photographers and fashion bloggers that prowl the streets, hoping to get the perfect shot.
Although Garosugil boasts fashion franchises such as H&M, Forever 21 and Zara, the street is better known for its smaller boutiques and vintage shops. One can, and should, spend an entire morning browsing the wares of these charming shops as they boast enough eye candy to make even the casual window-shopper like myself giddy.
Some of my personal favorites are Spicy Color, three floors of modern and colorful Korean designs, and 9 Owls, a vintage boutique overflowing with fun styles from the 1970s and 80s, and an entire wall of Chanel bags that will make any girl go gaga.
Just as famous as Sinsa-dong's boutiques are its atmospheric restaurants and there are plenty of options for the hungry shopper. The restaurants in the neighborhood are a bit pricier than those in other parts in Seoul, but many offer lunch specials on weekdays.
Pier 17 was the greatest find of my recent staycation, as it was the first time I was able to have authentic Cajun food in Korea. I went for the gumbo lunch set which included a beautifully made bowl of gumbo (sausage and chicken stew), a small salad with a killer dressing, bread and a soft drink for less than 10,000 won. The atmosphere was very nice, as well, and the restaurant is easily accessible to shoppers, located just a block from Garosugil.
If you're looking for a truly Gangnam-style dining experience, then head to Ryunique. The Sinsa-dong locale serves incredibly inventive dishes dreamed up by Chef Tae Hwan Ryu. Chef Ryu marries Korean ingredients with Japanese and Western culinary techniques gained from his past apprenticeships in the UK, Australia and Japan.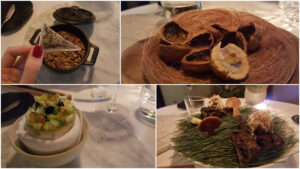 A few of the courses at Ryunique's 23-course dinner.
His work is so admired that Ryunique was rated 27th in Asia's 50 Best Restaurants and marked its name on the list of 100 Best Restaurants in the World by Diner's Club Academy. Go all out and splurge on their 23-course (!!!) dinner. It'll set you back about 230,000 won, but it's an experience you'll never forget.
After lunch, it's back to the finer things in life: handbags.
The Simone Handbag Museum is housed in unique building with a glass facade and a roof made to look like purse handles. Inside is an impressive collection of handbags; one floor is dedicated to contemporary styles of the West while the other features historical handbags dating back to as early as the 1500s.
Mannequins are placed strategically throughout the museum to illustrate how handbags were worn throughout history as well as how the lifestyles of the eras influenced handbag design. The bags were beautiful to look at but even more interesting were the stories that each told, explained thoroughly in the museum brochure.
The building also boasts special exhibits, a cafe complete with adorable handbag decor and a workshop where Korean artisans can be watched cutting, stripping and sewing the latest designs. Fashion enthusiasts can also create their own handbags with the gorgeous high-quality materials on sale in the Material Bazaar.
A day in Sinsa-dong wouldn't be complete without a visit to one of the neighborhood's cafes for some girl talk. Garusogil has some great spots for people watching but the side streets are also worth exploring.
If atmosphere is what you seek, don't miss Cafe Oui, one of my most recent but favorite afternoon hangouts. This multi-story cafe oozes feminine charm: pastel stuffed animals, dainty desserts and adorable teddy bear cappuccino foam art. If this doesn't sell you, then the handsome servers in bow-ties definitely will.
[Update: Cafe Oui is now closed. Other Sinsa cafes I recommend are: Dore Dore (for rainbow cake), Cafe Kitsune SEOUL (for an Instagram-worthy outdoor seating) and and Sona Cafe (for innovative Korean-style desserts).]
After fueling up on caffeine, head to Spa Lei to soothe your aching shopping arms. Unlike most jjimjilbangs (public bath houses) in Korea, Spa Lei is for girls only and goes out of its way to accommodate its female guests.
The rock sauna, which is essentially a bed of heated stones that contour to the curves of the body, is particularly relaxing, and the massaging jets of the hot tubs will have you never wanting to leave this place.
When it's time to rest your head, I recommend staying at an Airbnb. In Sinsa-dong, there are Airbnb offerings ranging from cozy guesthouses to modern lofts. (Seriously — check out these beautiful spaces!) There's truly something for everyone and every budget. But the best part about staying at an Airbnb is the hospitality!
Having a host to connect with not only provides an additional measure of safety (especially if you're traveling alone), but in my experience, I've also found they're very generous with recommendations and travel information. They're also great at providing little touches that make your stay far more comfortable.
(Seoul Searching readers can get $55 off your first Airbnb visit by clicking here.)
Enjoy the facilities of your accomodations, but be sure to get plenty of beauty sleep so you'll be ready to explore even more of Gangnam tomorrow. Click here to see part two: Apgujeong and Cheongdam-dong.

For even more Sinsa eats and treats, check out a nighttime itinerary I put together for Visit Seoul.
To Get There: Take the Seoul subway to Sinsa Station (Line 3). From exit 8, walk straight for about 5 minutes. The second intersecting street is Garosugil. Please see the map below for details on each business mentioned.
Words and photos by Mimsie Ladner of Seoul Searching. Content may not be reproduced unless authorized.