In the past, dog ownership was fairly rare in South Korea. Over the past few years, however, it has become increasingly common, if not the norm for urban-dwelling Seoulites. Taking advantage of the recent pet craze, many entrepreneurs have struck gold with their dog-centric businesses ranging from puppy cafes to pet clothing stores. Furthermore, Seoul-based enterprises ranging from hotels to restaurants have also begun to cater to canines and their humans. So, if you're looking to explore dog-friendly and take Fido along with you, these are the best places to do it.
Dog-Friendly Cafes & Hotels in Seoul
Urban Dog
A pristine 100-square-meter, dog-only swimming pool, a commodious pet hotel and modern exercise equipment are the highlights of the Urban Dog pet café near Nambu Bus Terminal. While the café definitely delivers a fun experience for small and mid-sized dogs, their biggest priority is safety and comfort. The staff go out of their way to keep the environment clean while security cameras provide an extra measure of safety. The facility offers complimentary training services every Wednesday.
335, Hyoryeong-ro, Seocho-gu, Seoul, South Korea; +82-2-525-1550; Open daily 10am-12am
Sangsang Puppy Café
If your pup is in need of a play date, head on over to Sangsang Puppy Café in Hongdae. This well-organized café is divided into three sections: the entrance, the meeting room and the play room.
Upon entering, you and your pet are given the chance to get used to the other dogs at the café in the meeting room. Once your pup is comfortable, you can move on to the playroom, where cleanliness is of the utmost importance. Sangsang also offers pet hotel services and training programs.
An admission fee of 8,000 won gets humans a free drink.
3rd Floor, 19-16, Wausan-ro 21-gil, Mapo-gu, Seoul, South Korea; +82-70-7803-4986; Open daily 12pm-12am
Pet Ground
Offering day care, hotel services and training programs, this Haebangchon pet café is a popular spot for expats and their canine companions. Other popular services at Pet Ground include their self-grooming station and… wait for it… a photo studio. Because even dogs deserve to look their best on Instagram.
27-3, Yongsan-dong 2ga, Yongsan-gu, Seoul, South Korea; +82-2-749-9990; Mon 6pm-10pm, Tues-Fri 3pm-10pm, Sat-Sun, Holidays 1pm-10pm
Traveling to Korea with your pup? Don't leave home without this TSA-approved dog carrier that's as convenient as it is comfortable!
Dog-Friendly Parks in Seoul
DaDogDaDog Park (다독다곡)
Big dogs in particular will love this spacious dog park, café and shop in Pangyo. Divided into two sections – one for large dogs, the other for smaller ones – the grassy park offers lots of room to run around. Admission costs 7,000 won per human and small dogs, and 10,000 won for big dogs.
DaDogDaDog does not require any additional purchases, and you can bring your own food, as long as you eat it outside the gated fields. A friendly staff is on hand to ensure both you and your four-legged friends have a good time, and continuously offer water and poop bags.
Although slightly outside of Seoul and not extremely accessible by public transportation, it's definitely worth checking out.
242 Haogae-ro Bundang-gu, Seongnam-si, Gyeonggi-do South Korea, Open daily 10am-7pm
Joy Dog
This "total dog solution provider" located just twenty minutes outside of Gangnam is the stuff dreams are made of – dog dreams, that is.
Catering to small and medium-sized dogs, Joy Dog (admission 7,000 won for each person and dog) boasts a spacious park where dogs can roam freely while their owners can enjoy a beverage in the air-conditioned café. There's even a dog pool that can be accessed for an additional 10,000 won.
Check out their website for more information about their English-language training programs.
777, Wabu-eup, Paldang-ri, Namyangju-si, Gyeonggi-do, South Korea; +82-31-577-7734
Seoul City Public Dog Parks
Seoul has three public, leash-free dog parks – at Seoul Children's Grand Park, Peace Park at World Cup Park and Boramae Park – where pups can enjoy various facilities such as clean, open spaces; mini hurdles; and a variety of toys.
Open from March to November, dogs and their humans can enjoy the parks free of charge. Owners are required to have their dogs registered with the Animal Protection Management System to use the parks.
Open daily 10am-8pm (10am-9pm from May to August)
Dog-Friendly Restaurants in Seoul
Patio.D
As Hapjeong's most celebrated dog-friendly restaurant, Patio.D is loved by humans and canines alike. While there are dog-restricted areas, the establishment boasts a spacious rooftop where dogs are free to roam. Owners are required to bring along potty pads – but if you do forget, you can purchase some at the restaurant.
Menu items worth sampling (for humans, of course) are the Pesto Genovese Pasta (18,000 won) with fresh basil sauce and the Lobster Rose Pasta (24,000 won). Their homemade burgers are also very tasty.
5-6, Eoulmadang-ro 5-gil, Mapo-gu, Seoul, South Korea, +82-2-333-9645; Open Mon-Thurs 12pm-12am, Fri-Sun 12pm-2am
The Royal Food and Drink
This tiny bistro perched at the top of Haebangchon is one of the best spots in the city to do brunch. Their Green Breakfast (10,000 won) is a healthy mix of veggies, pesto, egg and toast, while their Guacamole Breakfast bagel (9,000 won) pairs perfectly with their savory-spicy Bloody Mary.
But what makes The Royal Food and Drink so great for dog owners is the fact that the staff welcome furry friends with welcome arms. It's also located right at the base of Namsan, making it a great pit stop during a walk on Seoul's iconic mountain.
37 Sinheung-ro 20-gil Yongsan-gu, Seoul, South Korea; +82-70-7774-4168; Open Tues-Sun 10am-10pm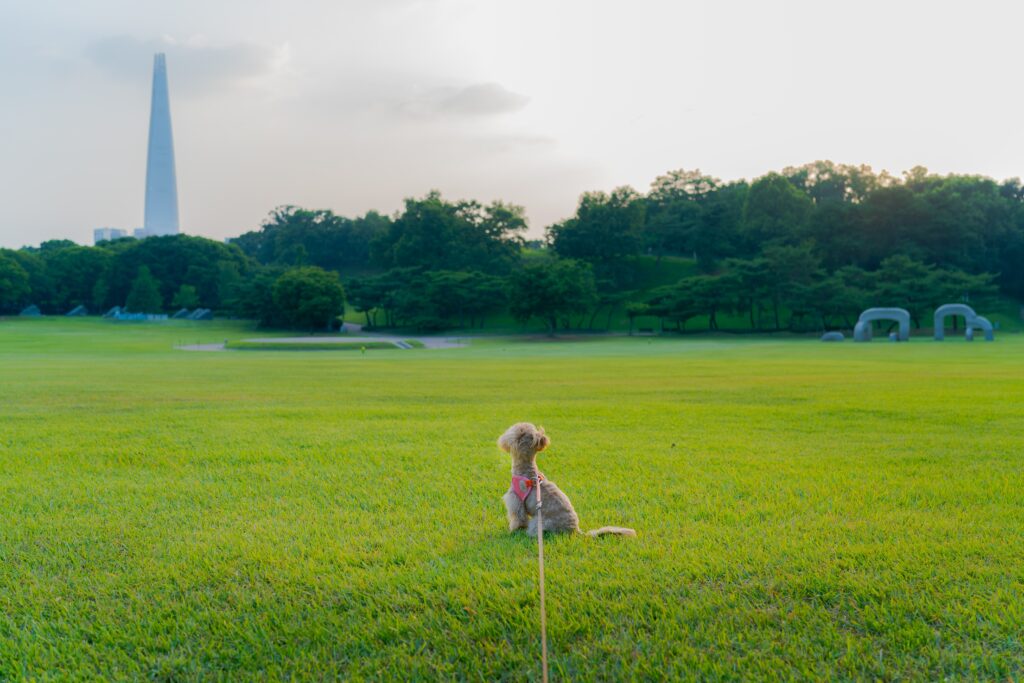 Behind Yellow
Perhaps the most well-known dog-friendly restaurant in southern Seoul, Behind Yellow not only serves up tasty dishes for humans, but also offers some fantastic services for their four-legged friends. The bistro boasts a small terrace with four tables dedicated to those with a canine companion.
They also offer comfy dog seats with railings to ensure dog safety. Dogs of all sizes are welcome, but those with medium and large builds must be kept on a leash at all times. Humans will love the restaurant's Roast Beef Gorgon (19,000 won), a rich pasta made with beef tenderloin and gorgonzola. For something more sharable, opt for their pizza.
125-17, Nonhyeon-dong, Gangnam-gu, Seoul, South Korea, +82-2-3443-8488, Open daily 11am-11pm (Weekday break time 3pm-5:30pm)
Dog-Friendly Bars in Seoul
Southside Parlor
Southside Parlor has over the past few years made a name for itself as one of the best cocktail bars in the city, thanks to its exceptional service and artisanal cocktails that incorporate creative mixtures of local, seasonal ingredients.
More recently, the bar began hosting Puppy Happy Hour on Thursday evenings on their rooftop, which provides great views of the Itaewon area. Enjoy happy hour cocktail specials from 6-7:30 and wine specials from 6-11. Just remember to BYOPB (bring your own poop bags).
4th Floor, 527, Itaewon-dong, Yongsan-gu, Seoul, South Korea; +82-2-749-9522; Open Tues-Thurs 6pm-12am, Fri-Sat 6pm-2am, Sun 6pm-12am
Bichon Pocha (비숑포차)
Located in glitzy Sinsa-dong, Bichon Pocha is so popular among dog lovers that the entire bar is crowded with pooches of every size and breed at just about any given time.
This Korean-style bar which serves up drinking food such as spicy stir-fried pork (20,000 won) and steamed octopus (35,000 won) and is open until the wee hours of the morning, meaning you and your pup can party together until the sun comes up.
237-5 Nonhyeon-dong, Gangnam-gu, Seoul, South Korea; +82-2-542-2792; Daily 6pm-5am
Dog-Friendly Shops in Seoul
Starfield Mall
Starfield Mall, just outside of Seoul in Gyeonggi Province, is South Korea's first dog-friendly shopping mall. The mega-mall operated by Shinsegae Group allows visitors to take their dogs with them into select shops (designated by a sticker at the door) rather than require they put their pets inside carrier bags, which is the norm at most shopping facilities.
Dogs will particularly enjoy Molly's Pet Shop, a gigantic store that sells dog beds, clothes and toys, and even has a freezer section of high-quality raw pet foods. Nearby, Siheung Premium Outlets boasts a pet park on the first floor.
750, Misa-daero, Hanam-si, Gyeonggi-do, Seoul, South Korea; +82-1833-9001
Dog-Friendly Hotels in Seoul
Hotel Cappuccino
If you're traveling in Seoul (or simply partaking in a staycation), Hotel Cappuccino in Gangnam is one of the many places willing to happily accept up to two of your dogs (under 10 kilograms). Their Bark Rooms are equipped with wooden floors, a pet bed, toys, oral hygiene products and a night gown for your pup.
They also prepare pet food without salt or preservatives. A percentage of the proceeds from the Bark Rooms is donated to the Korean Animal Rights Advocates organization.
155, Bongeunsa-ro, Nonhyeon 1(il)-dong, Gangnam-gu, Seoul, South Korea, +82-2-2038-9500
Sheraton Seoul Palace Gangnam Hotel
Pamper your pup with the "Love that Dog" package at the Sheraton Seoul Palace Gangnam Hotel.
For around 150,000 won per night (plus an additional 120,000 won cleaning fee), you can enjoy an evening with your furry friend in a deluxe triple room with a balcony, the use of a Sheraton Sweet Sleeper bed, stainless steel water and food bowls as well as a complimentary welcome dog kit.
Dogs (under 10 kilograms) should be on a leash or in a carrier when outside of the room, but can still enter the restaurants and bars.
160 Sapyeong-daero, Banpo 4(sa)-dong, Seocho-gu, Seoul South Korea; +82 2-532-5000
Four Seasons Hotel Seoul
If your dog is truly a VIP and only deserving of the best, head on over to the Four Seasons Hotel Seoul in downtown Seoul. Small dogs can enjoy premium amenities such as an embroidered toy bone, name tag, sleeping mat, no-skid dog bowl and feeding mattress – for a hefty 250,000 won per night.
97 Saemunan-ro, Dangju-dong, Jongno-gu, Seoul, South Korea; +82-2-6388-5000
FYI
If you don't have the cash to splurge on a fancy hotel (of either the dog- or human-accommodating variety), check out the Pet Sitting Network – South Korea Facebook group. This network of English-speaking, animal-loving Seoul residents offer their services for free or a nominal fee or deposit.
A number of the PSN members are also active in the Animal Rescue Korea network, a valuable resource for those looking to adopt, find help for abandoned animals, and get/offer pet care advice.
Or, if you're simply looking to meet up with other dog-lovers or perhaps arrange a play date for your furry friend, check out the Namsan Dog Pack group on Facebook, where you can find loads of information about dog ownership in Korea. Their members (and their dogs) also meet up regularly at various dog-friendly locations around the Namsan area.
Map: Dog-Friendly Seoul
Words by Mimsie Ladner of Mims on the Move. Content may not be reproduced unless authorized.