In light of the COVID-19 pandemic, South Korea has issued a number of mandates to curb the spread of the coronavirus.
Among them is a forced quarantine for
all inbound travellers (including returning Korean nationals). These people are required to quarantine themselves for 14 days upon their arrival in Korea. While Korean nationals and foreign nationals who reside in Korea are allowed to self-quarantine at their place of residence, foreign nationals who are short-term visitors in Korea (including those traveling on a tourist visa) must serve the quarantine at a designated government facility at their own cost (approximately 100,000 won — about $100 US — per day).
American traveler Jay Weinberger (who recently entered the country on a non-resident tourist visa) shares his experience of the forced quarantine process below. (This document will be updated on an ongoing basis.)
May 8
My plane from New York touches ground at about 4pm local time here in Seoul. I depart, knowing full well what I'm getting myself into: a two-week quarantine for more or less everyone without a proper work or residence visa at a facility to be determined by the government of Korea. I don't know where the facility will be located or the type of facility it'll be.
How does one prepare for this? For me, it was to have no expectations whatsoever.
It's now about 6pm, and I'm still going through the quarantine process at the airport. Employees are donned in HAZMAT suits and instructing wary travelers on what is to be expected of them. I feel as if I'm in a bad movie. I go from one line to another: having my temperature taken, handing in previously filled out forms and answering questions about my perceived ridiculous decision to travel internationally during these difficult times. I answer, smile and with each step, move closer towards solitary confinement.
Oh, and let's not forget to mention the tracking (health monitoring) apps we were required to download.
Finally, at around 7pm, I arrive at an office within Incheon International Airport where I'm once again apprised of my fate. I agree to pay for my 14 day quarantine (or, imprisonment, as I see it) and follow all policies governing it, answer the same questions I'd been asked over the previous two hours, and am branded with a tag that would allow officials beyond immigration and baggage claim to identify me as being a short-term traveler designated for government-imposed quarantine.
If the goal was to desensitize me from what I was about to go through, I must say they did a fine job of it. At this point, all I wanted was a shower and bed.
At around 8pm, I collect my bags and proceed to one final line. I'm greeted by police officers that would eventually escort my group to our quarantine facility. I make a quick stop at an airport CU to buy bananas and Gatorade, and minutes later I'm on a bus.
I arrive at a hotel – the Marina Bay Seoul – at around 9pm, five hours after deplaning. The hotel employees who greet us are also wearing HAZMAT suits. Again, I feel as if I'm in a horror movie. Internally, I keep asking myself why I decided to come back when I did. Overall, I'm ok. I know I'll endure. I think to myself that things could be worse; a lot worse.
Finally, around 10:15pm, I'm in my room. This is where I'll be for the next 15 days. I hold onto the hope of an early release (and refund for days not spent here), but as previously stated – no expectations. I unpack, chug a bottle of water, shower, have a bowl of ramen and set some goals for the next two weeks. First, try and get some sleep…
Well, as far as places to be stuck – this isn't so bad.
I haven't slept much, but that's more jet lag than anything else. Around 8am, an announcement is blasted over the speakers that breakfast is almost ready and that we should remain in our rooms until another announcement is made.
I get a knock on my door from someone in a HAZMAT suit. He administers a coronavirus test (a swab up my nose, and another to the back of my throat). This was nothing new to me, as I paid to get tested before traveling to the States from Korea in late March and had gone through the same testing procedure. I was planning to stay with family, and wanted to be sure I wasn't infected. I wasn't. Anyway, I now have some additional hope of an early release. After all, negative test results would warrant that – wouldn't they? Anyway, no expectations…
An announcement sounds over a loudspeaker in which I am told to quickly open my hotel door to receive my breakfast tray. (We are not permitted to leave our rooms at all during the entirety of our stay.)
Breakfast comprised of a ham and cheese sandwich, three small hash browns, two boiled eggs, and a small salad. There was also a small serving of cereal and a bottle of water. Unfortunately for me, I don't eat ham, but all things considered, not bad.
I tried to get some sleep afterwards, but they kept blasting off announcements instructing us not to visit friends or family being housed in other rooms. I'm not sure that they could have explained things better in our intake documents, but I guess some of my floormates thought they could get away with sneaking out.
Lunch was fine. The fish and pasta tasted ok, but were relatively cold. The fries were soggy and cold, but somewhat flavorful. The fruit and salad were fine. I saved the juice for later, and drank the bottle of water.
I was finally able to get some good rest – until the dinner announcement, which came half an hour early…
Dinner was Korean (finally; I do enjoy Korean food), but also somewhat cold and underwhelming. They served bulgogi, lettuce, kimchi, lotus root, tofu, and some potato – along with rice and another bottle of water.
Again I think to myself that things could be worse…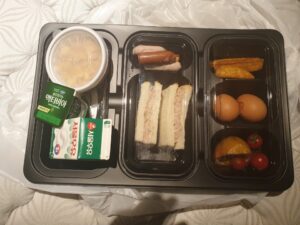 Quarantine dinner
Jet lag continues to be an issue. Combined with some random (and some not so random) announcements, it's been hard to get some decent sleep. I manage. Breakfast was served at the scheduled time today (7:30).

It comprised of an egg salad sandwich, sausage links (more like a cut up hot dog), a bit of chicken porridge, pickles, fruit, and a bit of cereal. Lunch was better today: pork cutlet in a sauce I couldn't really make out (maybe horseradish?), fried chicken (3 small pieces), rice, veggies, and a tiny bit of kiwi. There was also some kind of sweet potato concoction, but I stayed clear of that after a small bite.

I guess I can still afford to be somewhat picky about what I eat.


I've had no face-to-face contact with anyone since my Coronavirus test yesterday morning. Meals are left outside of the room, and we're prompted to retrieve them once staff has left the floor. It also seems that nobody comes to check on your condition.
We're asked to update our health status on an app twice a day (the app we were asked to download while going through the quarantine process at the airport). They've provided thermometers so we can record our body temperature for said update. I wonder how many of us actually use them to provide accurate information. After all, they really have no way of verifying what we send them.
I guess I should mention that I came to Korea on a tourist visa, which has a 90-day limit. They consider travelers such as myself to be short term, and so I am required to be here. Those with proper visas (work, study, etc.) and a place to stay are afforded the option to self-quarantine at home. That said, they, too, have an app on which they send health status updates to the government.
Anyway, I'll have dinner at 6 and try to get in some exercise beforehand.
That's all for now. Time to catch up on some sleep…
3pm update: someone came to take my body temperature, and informed me that my Covid test result is negative.
So I haven't documented things for a few days. That's fine; just look at day 2 or 3.
Sleep has been ok, as the room is comfortable. But the monotony is killing me. The highlight of my day yesterday [away from the computer, that is] was watching a boat get moved outside my window. I've yet to turn on the TV. Perhaps I'll finally do that tonight…
The food has been atrocious as of late. Much of it is flavorless, and the stuff that is sauced up is way overdone. Meals are cold – without fail.
I miss the gym. One could only do so many pushups/sit-ups until it gets old.
I came to Korea with the understanding that leaving the government-imposed quarantine (as opposed to self-quarantine at my apartment) early was a possibility. (A friend of a friend had gone through the process a few weeks ago, and was permitted to leave after about six days.) The intake documents said that it would not be a possibility. I figured that was just a technicality, and there was still a shot. One week in, and I no longer feel that way. I'm certain I'll be here for the duration (14 nights).
For anyone on the fence about coming to Korea on a tourist visa, I urge you to reconsider the idea, at least until things get back to normal.
Have you always wanted to learn Korean? Check out this free cheat sheet that will have you reading Korean in just 90 minutes!