I've always adored makgeolli, but enjoy it even more now that I am back in America, as it is not only delicious but is also associated with so many wonderful memories of my time in Korea.
I was so excited when I recently came across
Hyesun House
, an Austin-based startup that sells DIY makgeolli kits. Just in time for quarantine, I received my kit and quickly whipped up a
matcha-infused
brew that I have just been
loving.
Read on to learn more about makgeolli, its culture and how you can make this beloved beverage from the comfort of your own kitchen! (And get a promo code at the bottom of the article.)
Hyesun House Make Your Own Makgeolli Kit
What's makgeolli, you ask?
Sometimes referred to in English as "rice wine," makgeolli is a raw, minimally-filtered rice-based spirit that's bright, delightfully fizzy and somewhat sour in flavor. It's also considered the oldest alcoholic beverage in Korea.
Once a "poor man's drink" consumed by farmers, the beverage has in recent years evolved into a ubiquitous (and even trendy) beverage adored by Koreans nationwide.
My favorite memories of makgeolli involve
rainy afternoons
spent in rustic back-alley bars or in
pojangmachas
, street food tents. It is usually served alongside
pajeon
, savory pancakes, or
bindaeduk
, pajeon's crispier cousin. The combination of the sweet-and-sour flavors of the makgeolli and the savory profiles of the pancakes are a match made in culinary heaven.
I also think of makgeolli when I recall my
regular hiking outings
. Alcohol and hiking, you ask? In Korea, yes; makgeolli is just as important on the trails as the hiking sticks and neon-colored parkas toted by the older folks that take the hobby quite seriously.
When I used to go on hikes in Korea, I was almost always offered a cup or two of makgeolli by complete strangers. For one reason or another (the fresh air and scenic landscapes, maybe), the mountains of Korea seem to cultivate hospitality and friendliness.
Perhaps it was during these experiences that I first grew fond of the drink. Or maybe it was one of the many afternoons sitting along the
Han River
or the Cheonggyechon sipping it down over a chat with friends.
Makgeolli and bindaetteok — a rainy day tradition
Either way, makgeolli was – is – one of my favorite things about Korean cuisine.
Now that I'm back in the States, it's quite difficult to find, and when I am able to locate a bottle, it's quite pricey.
But much to my surprise and excitement, I recently learned about
Hyesun House
. Their
Make-Your-Own Makgeolli Kit
($55) makes it easy and affordable to brew up your own makgeolli without ever having to leave your home. (Which is especially convenient during these times, isn't it?)
How can I make makgeolli at home?
Makgeolli is made by fermenting a combination of rice, yeast, a fermentation starter and water. Other ingredients can be added to create different flavors and I've tried variations using corn, lotus and even gumballs – those spiky little things that fall from trees.
The kit that Hyesun House provides comes with everything you need to make makgeolli, including all the ingredients as well as the brewing tools. Their step-by-step guide is very easy to follow, and ensures that your brew is delicious and ready in just 10 days. (The process is a simple one; simply sanitize your tools with the included cleanser, mix the ingredients, stir and filter when ready.)
Combining the ingredients to make matcha makgeolli!
I must say, I was so thrilled to taste my homemade makgeolli after waiting patiently for my brew to ferment. Makgeolli made at home tastes exponentially better than anything you can buy at the store!
And, as an aesthetics snob, I was so pleased to see that everything was packaged so beautifully. In particular, the brewing jar really caught my eye (and stole my heart) with its Korean motifs reminiscent of the walls that border Seoul's palaces. It made the brewing experience even more fun and nostalgic.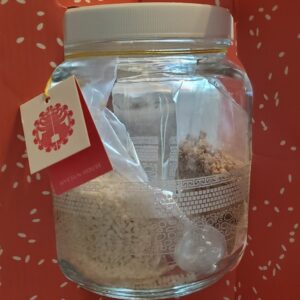 How awesome is this brewing jar decorated with Korean motifs!?
Of course, I am all about supporting a business that is socially-driven, and Hyesun House is that, too. A portion of the profits made from these kits go to organizations dedicated to suicide prevention and mental health issues in the global Korean community.
If you're looking for a new hobby to try, or simply want to connect with Korean culture in a unique way, I highly recommend purchasing one of the
DIY makgeolli kits from Hyesun House
. And there's no better time than now, as Seoul Searching readers get 15% off their next order. Just use the code
STAYHOME15
at checkout.
If you do give makgeolli homebrewing a try, let me know in the comments how you enjoyed it! Can't wait to hear about your experiences!