Imagine a place where you can buy everything you need at a reasonable price. In one convenient location. At any time of the day.
While such a fantasy land might only seem like the stuff of dreams, in Korea, it's a reality and it goes by the name of Dongdaemun. Here, mammoth modern shopping complexes filled with thousands of small shops tower high into the sky, glowing like beacons in the blackness of late night, when the place really starts to get hopping.
As one of the biggest fashion retail and wholesale areas in the entire world, both fashionistas and designers flock here when the rest of the city is settling down for bed to buy fabrics and decorative materials for garments, making it a great place to spot imminent trends.
It's also a place to find quite literally anything, from second-hand junk to vintage Chanel. But it's not only the major shopping malls that keep crowds around until daybreak. There are plenty of other food and entertainment facilities that beckon serious shopaholics undeterred by time and unaffected by exhaustion.
Shop Till the Sun Comes Up

It can be a bit overwhelming to decide where to start in Dongdaemun, an area that consists of approximately 30 shopping centers and some 30,000 stores spread throughout 10 blocks, but the Lotte FITIN Building is a good place to start.
With one of the more eye-catching facades in Dongdaemun, shoppers are enticed by the complex's mesmerizing media facade. Surprisingly, its funky interior design is just as wow-inducing, as are the items for sale in the shopping complex's mid-range stores. It's far less chaotic than other malls in the area, making it a better alternative for those who are overwhelmed by the idea of browsing hundreds of small shops in a single sitting.
If your trip to Seoul doesn't coincide with any big K-pop performances, you can still get in on some YG action at Klive, on the ninth floor. Utilizing the nation's latest technology, this performance hall of sorts is one of the only places you can catch incredible one-hour shows of your favorite artists in hologram form.
As far fetched as it sounds, high-resolution images, and the splendour of a 270 degree panorama view make the shows the next best thing to actually seeing performers like Big Bang and 2NE1 live, especially since visitors get to be front and center.
While you wait for the show to start, take some time to explore the K-pop art gallery, cafe, souvenir shop and star lounge, where fans can shoot and print snapshots with their favorite idols. Don't miss the amazing outdoor panorama view of Dongdaemun while you're at it.
Another "apparel mill" worth visiting is Goodmorning City. The mall consists of 23 floors (!!!) with practically every kind of product—from cosmetics to electronics. Goodmorning City is a truly comprehensive facility that gives visitors an amazing shopping and entertainment experience. But it's not only for shopping.
On the ninth floor, Megabox Dongdaemun, a state-of-the-art movie theater with 1,680 seats, offers a special late-night movie package on the weekends called "Movie All Night." For a relatively low set price, movie-goers get access to three back-to-back movies, disposable slippers and complimentary blanket rentals.
For an additional few thousand won, you get a combo meal to ensure you won't go hungry during the movie marathon. What better way to enjoy the late night facilities of this 24 hour neighborhood?!
Soothe Your Shopper's Fatigue
Sweat out your shopper's fatigue at Sparex, a jimjilbang (Korean-style spa) located on the third basement floor of the Good Morning City Building. Open 24 hours a day, Sparex is a great place to freshen up with a hot bath, take a nap or even get a massage.
Because Sparex is frequented by international visitors, the majority of its staff is comfortable communicating in English, so they can walk you through the process if you're a bit intimidated or hesitant about the Korean spa experience.
Although not as grand as some of the city's other spas, Sparex is clean and pretty with all the standard spa facilities and then some. In addition to the segregated wet saunas and steam rooms, the place boasts a pretty big common area with dry saunas, an ice room, an internet cafe and snack areas, making it a great spot for couples.
If you're feeling really adventurous, opt to get a body scrub. For an additional fee, barely-clothed attendants will vigorously scrub down every inch your body (literally every inch) with a coarse towel to remove dead skin. The result, though temporarily excruciating, reveals soft, smooth skin, and is totally worth it. After all, beauty is pain.
Get Cultured
Take a break and enjoy the mellow sounds of yesteryear at the Forest of Music, a cafe and bar not far from Good Morning City. With shelves upon shelves of classic LP records, it's unlikely that you'll hear any K-pop here.
You, might, however, spot your favorite idol's autograph, as it is a popular spot for celebrities like G-Dragon, who appeared in an episode of "Infinite Challenge" that was filmed here. The rustic interior, also featured in the popular throw-back movie "Sunny" in both inviting and nostalgic, while every bit of decor is a reminder of the past. Grab a beer, or better yet a coffee, and get ready for more shopping.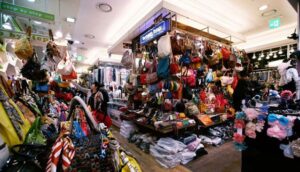 Explore the other fashion mills such as hello apM (young fashion), Migliore (cheap Kpop merchandise) and the oft visited Doota Mall, widely known as a gathering place for trendsetters and a complex sells a wide variety of fast fashion items on eight floors.
Don't miss the nightly dance and music performances on the outdoor stage, which add to the area's animated atmosphere. Pick up a coupon book at the information desk on the first floor for special deals.
Bargain Hunting
While these gigantic malls, which would take days to fully scour, are great for finding the best in Korean fashion, don't neglect the streets. Dotting the framework of Dongdaemun are clumps of outdoor stalls selling designer imitation shoes, bags and jewelry at discounted prices. Distinguished by their yellow canopies, these vendors set up around 9pm and operate until dawn. Try your bargaining skills to get even better deals.
Additionally, across the street from Doota, behind the Dongdaemun History and Culture Park, sits an undiscovered shopping heaven. Here, the pavement is covered with big sacks full of wholesale purchases from buyers who come from all over the peninsula. Although this is mostly a wholesale area, many vendors may not sell single items; on the other hand, there are some that do, so don't be afraid to ask.
Architecture to the Extreme
While you're at it, take a walk through the other-worldly Dongdaemun Design Plaza (DDP). The plaza's futuristic architecture, seemingly transported from another galaxy, was dreamed up by world-renowned architect Zaha Hadid and took four years to build. It has quickly become one of the most representative structures of the area, a stark contrast to the traditional landmarks which stand nearby.
The glistening exterior of the DDP structure is made of over 45,000 differently shaped shimmering panels, which appear as if they might open and unveil extraterrestrial passengers at any minutes. While the fictional (and oh-so-handsome) alien Doh Min-joon (portrayed by Kim Su-hyun) might not be present, scenes from "My Love from the Star" were actually filmed here.
Situated on the second basement level of the main structure, the Art Hall acts as a springboard for the country's creative industry. Here, conventions, exhibitions, concerts and performances are held, with some of the more notable being the Esprit Dior exhibition and Seoul Fashion Week.
If you want a glimpse into what the area was like before all the shopping complex and neon, check out the Dongadaemun History Museum. The museum aims to preserve and exhibit over 2,770 historical relics excavated from the site during the construction of Dongdaemun History and Culture Park.
A Little Bit of History
After the Korean War, refugees gathered at Pyeounghwa Market to sell clothes made from US army uniforms. It was this market that paved the way for Dongdaemun Fashion Town, which was later further developed by the influx of early post-Soviet entrepreneurs who flocked to the area in the 90s to buy clothes cheaply and resell them in Russia. Spread over a vast area, this historical clothing market may no longer by the epicenter of fashion, but it is still worth a visit, if only to look.
Pyounghwa Market is also home to a second-hand book street, which is located on the first floor of Pyeonghwa Market. While Seoul has plenty of book shops, this place is a great (and cheaper) alternative to the major franchises. For more than 30 years, vendors here have been selling a wide array of publications, including novels, magazines, foreign language titles and rare books.
Grub-A-Dub-Dub
With so much shopping to do, it can be difficult to squeeze in time to eat, which is why surrounding pojangmacha (street food tents) are so popular. Those that prefer a real meal should follow the tiled murals along the Cheonggyechon that illustrate interesting facts about the area to Meokja Golmok, or "Let's Eat Alley." Wedged between Dongdaemun Market and Jongno, this frenzied, cramped street is most celebrated for its dakhanmari (whole chicken) restaurants.
In operation for over three decades, Jinokhwa Halmae Wonjo Dakhanmari is said to be the first to open in this area, and is a good place to try. After ordering (one dish can serve two), a giant bowl of broth is served with an entire chicken, potato slices and rice cakes.
Let it boil, and add gochujang (red pepper paste) to taste.While waiting for the chicken to cook, mix the available condiments such as soy sauce, vinegar and garlic to create a tasty dipping sauce. Add a serving of noodles for the ultimate deliciousness. Be sure to get here before 10pm, which is when the restaurant closes.
If you manage to stay out until the wee hours of the morning, store your bags in the lockers in the subway station, and head past Heunginjimun (also known as Dongdaemun Gate) to Sunseonggil, a walking trail that snakes along the Fortress Wall of Seoul and connects the major four gates of the old city. Walk as far as Hyehwa's Naksan Park and grab a spot on the wall to watch the sun rise over the city. It will most certainly be one of the more memorable moments of your day.
Get There: Take the Seoul subway to Dongdaemun History & Culture Park Station (Lines 2, 4 and 5). Walk through Exit 11 or 12, and continue walk to the connected passage to reach Lotte FITIN.
Tip: Many of Dongdaemun's shops are closed on Mondays, so plan accordingly.
Interactive Map:


Words by Mimsie Ladner of Seoul Searching unless otherwise noted. Content may not be reproduced unless authorized.